Hair loss may be caused by foods or behaviors on a regular basis. The following are some expert-recommended hair-loss prevention tips.
1. Do scalp massage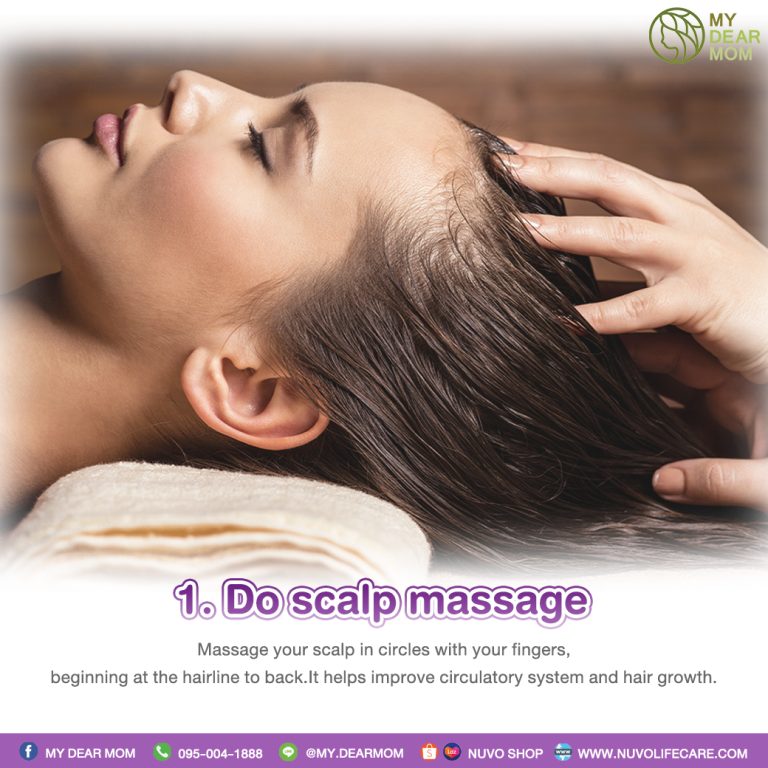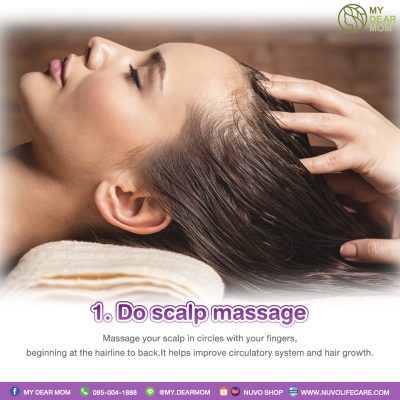 Massage your scalp in circles with your fingers. It helps improve circulatory system and hair growth.
2. Avoid styling wet hair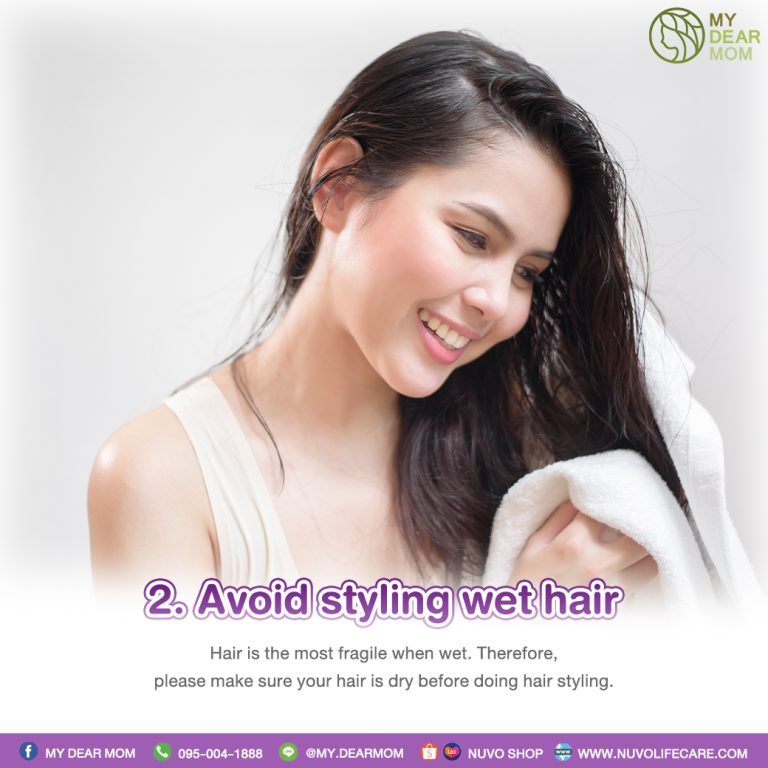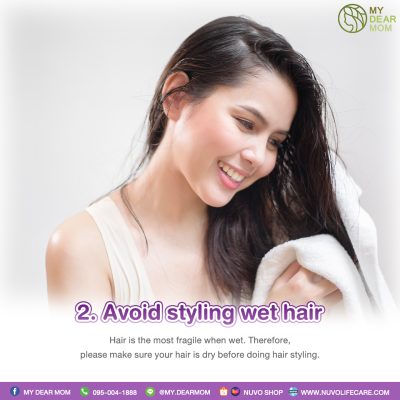 Hair is the most fragile when wet. There is a higher risk of hair fall compared to dry hair. Therefore, please make sure your hair is dry before doing hair styling. Also, please do not wrap your hair in a towel to avoid breakage.
3. Avoid excessive sun exposure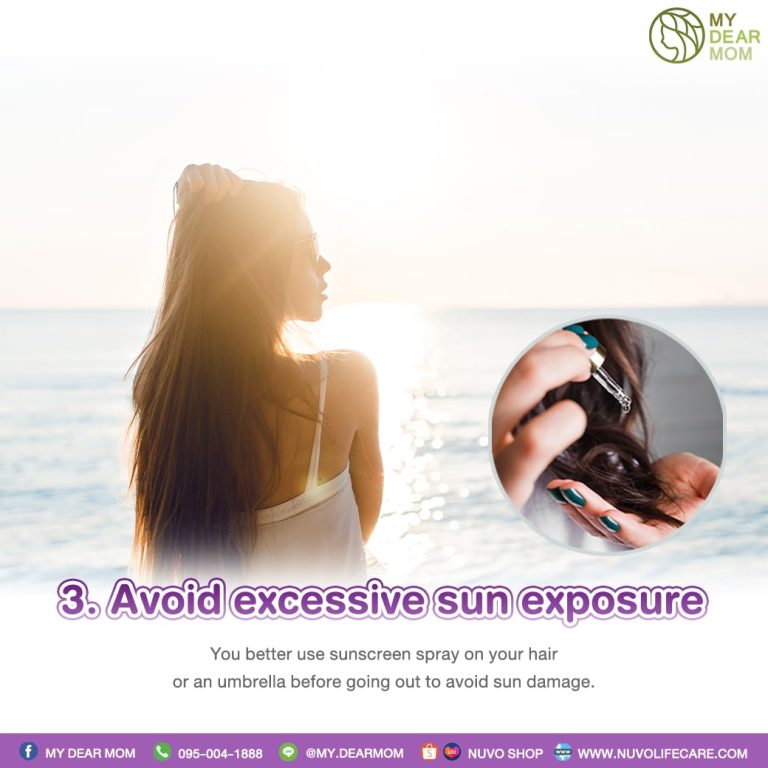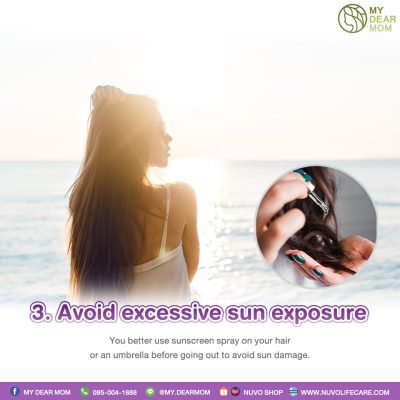 UV radiation from the sun is a cause that damages Keratin. You better use sunscreen spray on your hair or an umbrella before going out to avoid sun damage.
4. Eat an adequate amount of protein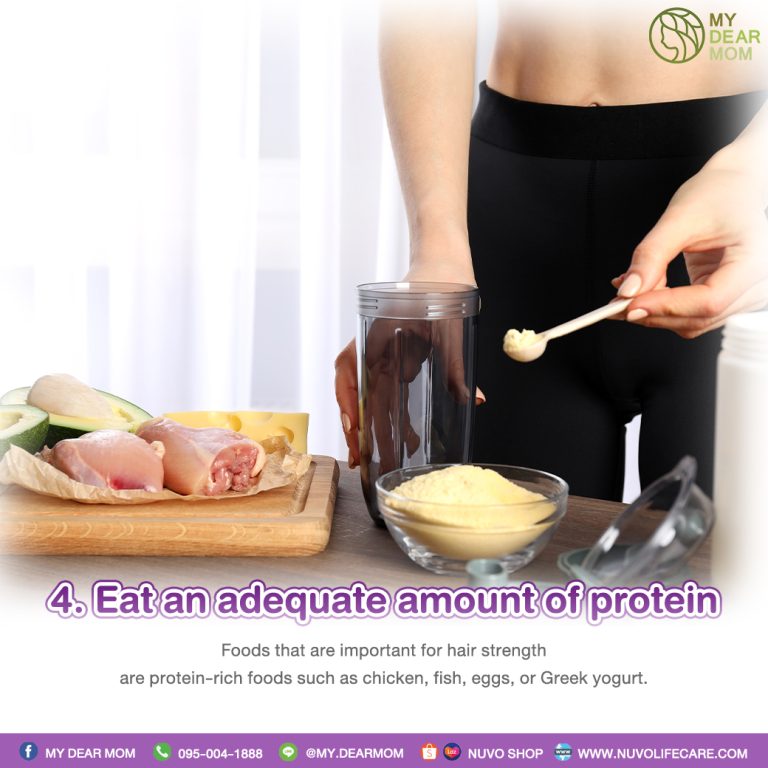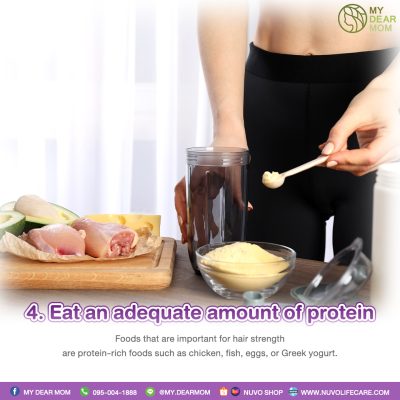 Protein-rich foods, such as chicken, fish, eggs, or Greek yogurt, are essential for hair strength.
5. Select alcohol-free hair styling products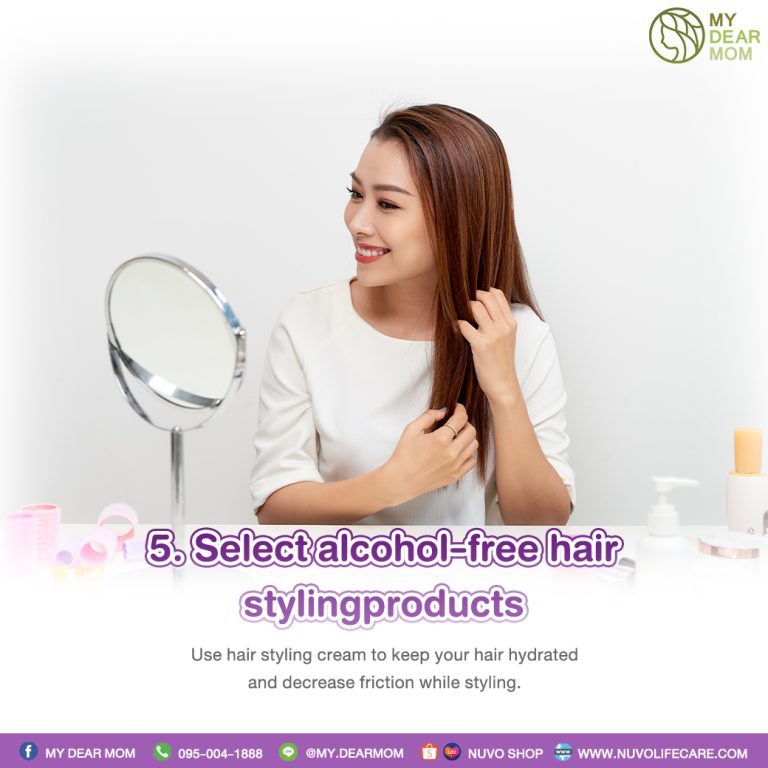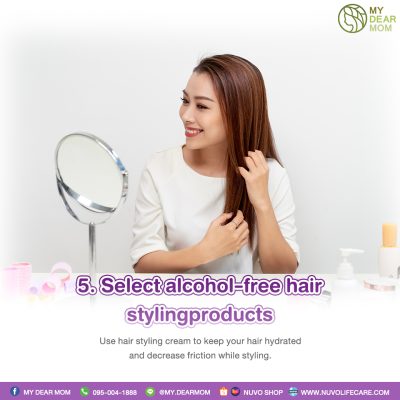 Alcohol products can dry out your hair and leave residue which is also a cause of dry hair. Please try using hair styling cream to keep your hair hydrated and decrease friction while styling.
6. Take a cold shower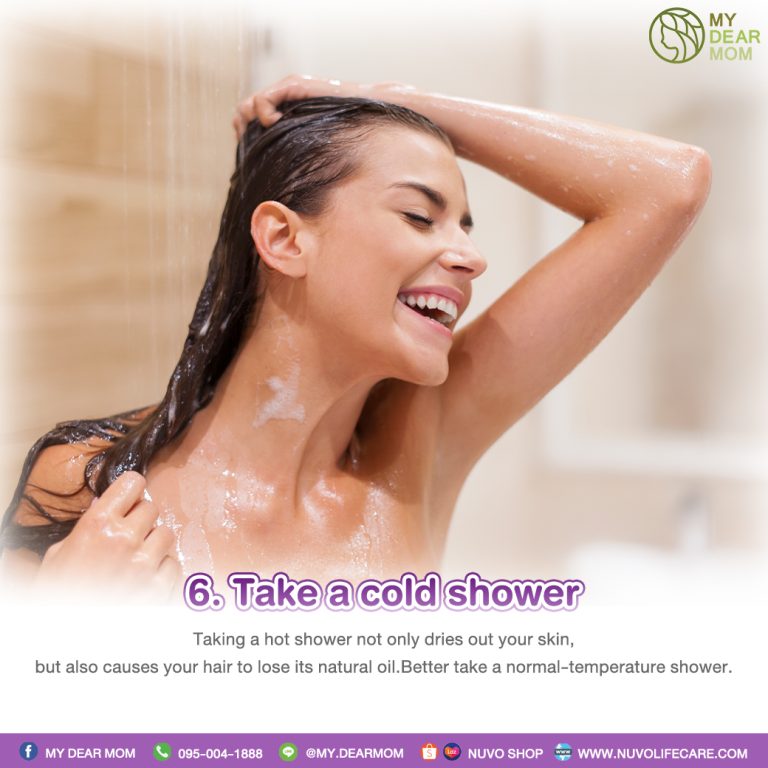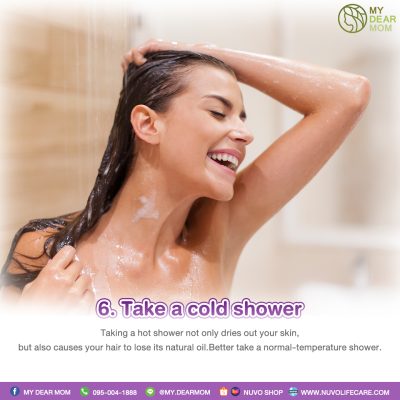 Many people enjoy taking a hot shower. However, did you know that taking a hot shower not only dries out your skin, but also causes your hair to lose its natural oil? Therefore, using hot water for hair washing is unnecessary.
7. Nourish your hair by using My Dear Mom Biotin Shampoo & Biotin Conditioner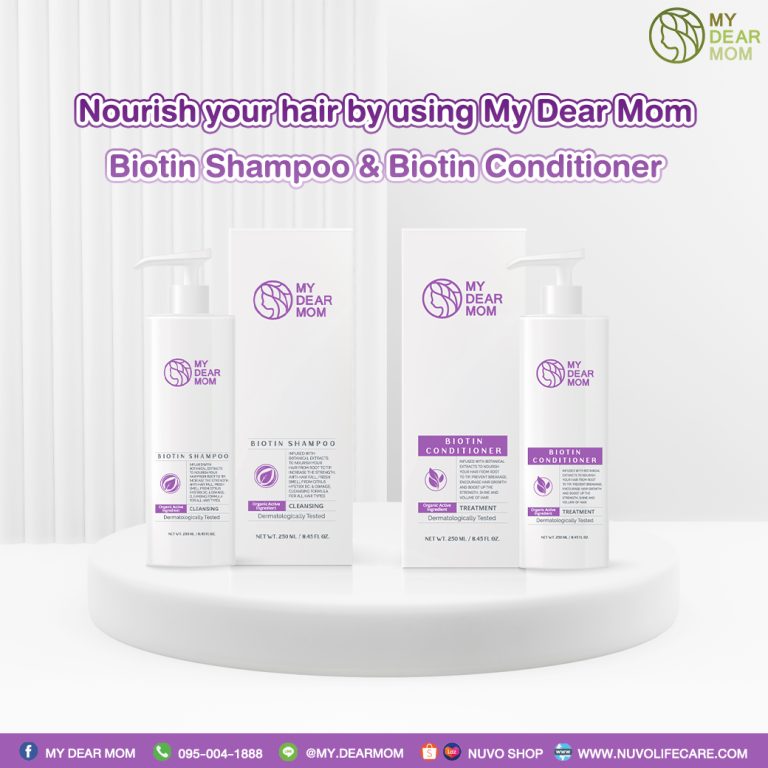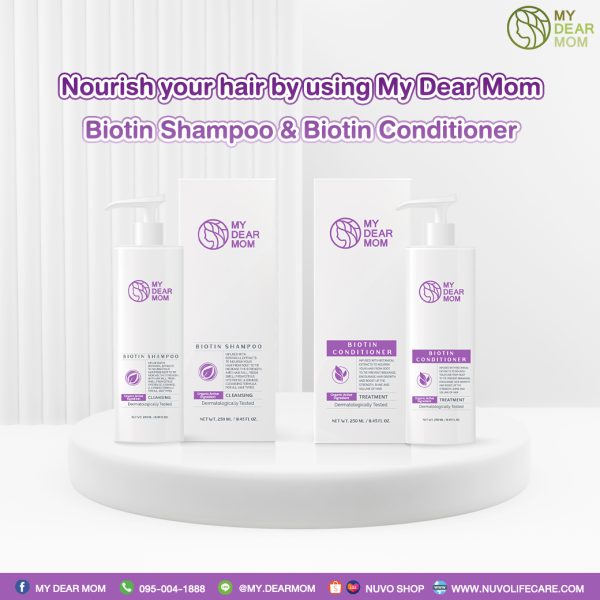 My Dear Mom Biotin Shampoo & Biotin Conditioner, organic haircare products, are ideal for all hair types with natural ingredients to reduce hair fall, restore hair damage, and effectively promote healthy hair.
Reference:
https://www.apexprofoundbeauty.com/%E0%B8%A7%E0%B8%B4%E0%B8%98%E0%B8%B5%E0%B8%97%E0%B8%B3%E0%B9%83%E0%B8%AB%E0%B9%89%E0%B8%9C%E0%B8%A1%E0%B8%AB%E0%B8%99%E0%B8%B2%E0%B9%84%E0%B8%A1%E0%B9%88-%E0%B8%9C%E0%B8%A1%E0%B8%A3%E0%B9%88%E0%B8%A7/
Shampoo | conditioner | shampoo organic | hair loss | damaged hair | my dear mom | ways to reduce hair fall | ways to reduce hair fall