Our skin requires regular care and nourishment. Pregnant women should take extra care of their skin because it will be more sensitive during the skin stretching around belly area.
Today, Nuvo Life Care would like to introduce a Skincare Routine set to turn your sensitive skin to be healthy?
Apart from skin cleaning product, you should also pay attention to your skincare routine especially those with sensitive skin and allergy-prone skin. 'How should pregnant women with sensitive skin choose their skincare routine?' is a frequently asked question. Let's see.
1. Skin cleaning products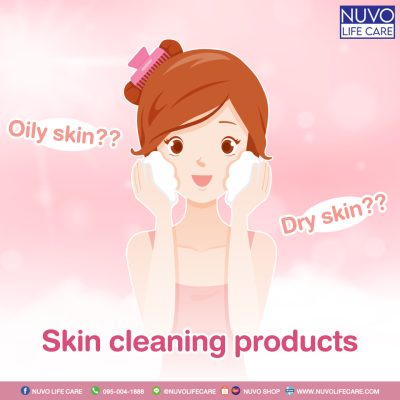 Only being clean is not enough since it needs to be gentle, capable of maintaining skin hydration for skin balancing and suitable for each individual. Therefore, you should be aware of this kind of skincare.
2. Moisturizer to keep skin hydration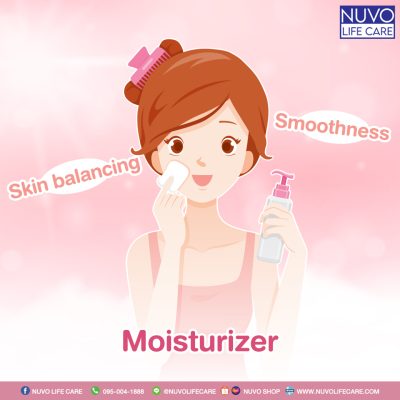 Moisturizer is considered a basic skincare product that should not be overlooked for skin balancing, smoothing, and enhancing skin mechanism. It's similar to how we need to drink water on a daily basis. Your skin requires hydration as well. Therefore, please use a moisturizer that is suitable for your skin.
3. Sunscreen cream for UV and pollution protection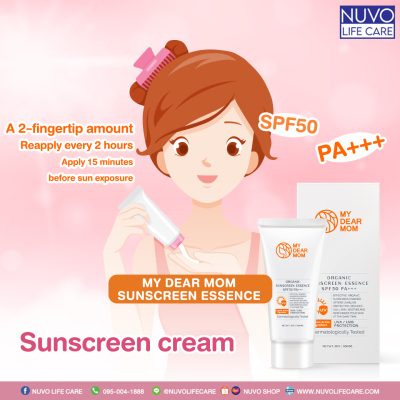 Radiation around you is a major factor for skin problems such as free radicals causing premature wrinkles, dullness, dry skin, melasma etc. Please choose a sunscreen cream that is effective and comfortable to wear in Thai weather such as My Dear Mom Sunscreen with SPF50 PA+++. Most importantly, please apply a 2-fingertip amount before leaving your place on a regular basis. You should also be aware of UV rays within your place.
Moreover, you should also use safe products with no harmful effects to your skin on other areas such as stretch marks around belly area or breast engorgement.
We recommend My Dear Mom Organic Stretch Marks Cream and My Dear Mom Organic Breast Cream for pregnant women who suffer from dry skin, stretch marks, and other skin issues.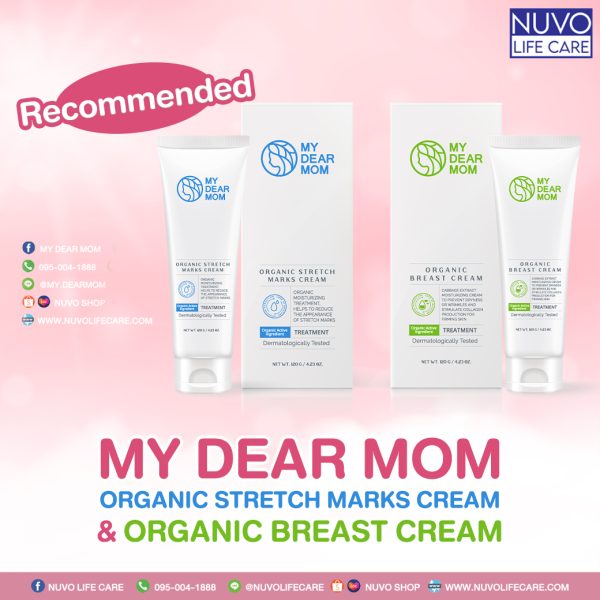 Prevent from stretch marks
Balance skin condition
Reduce an appearance of stretch marks making smooth skin
Boost collagen and elastin under skin layer
Protect and reduce inflammation around breast area
Moisturize and keep skin hydration
Reduce skin dryness effectively
Enhance skin firmness and skin radiance around breast area
Our product is gentle to the skin as we are internationally accredited and ensured by GMP Cosmetics Good Manufacturer Practice, Ecocert and Dermscan Asia. You can place the order now via our platforms and https://www.facebook.com/mydearmomorganicproducts
organic products | sunscreen SPF50 PA+++ | breast cream | stretch mark cream